SMART SPACER SYSTEM
Workmanlike laying
THICKNESS
3 cm
SIZES
15×30
THICKNESS
5 cm
SIZES
20×20, 10×20, 10×10
Smart Spacer System®: the laying technology for interlocking outdoor paving with integrated spacers
An innovative system for sustainable porcelain stoneware for outdoor paving, designed to reduce laying times and to obtain workmanlike grouts
Smart Spacer System® is the cutting-edge technology that involves the presence of spacers on the side of the tile to determine the minimum grout to be adopted, without the need to use adhesives, concrete, cement or similar. Thanks to the technology of the spacers integrated in the body of the porcelain stoneware tile, it is possible to quickly create the grouts, avoiding waste of material and long delays, often caused by the glues commonly used when laying outdoor flooring.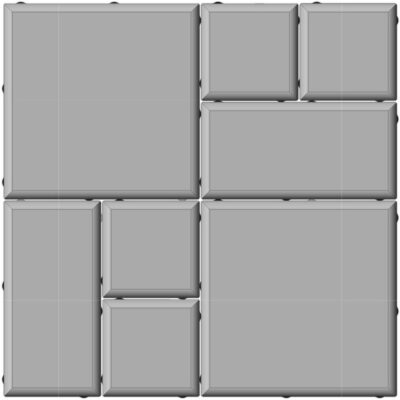 How does Smart Spacer System® for outdoor paving work?
After preparing the ground by laying a base of gravel or fine sand, the simple act of placing side by side the Grestone® Urban Pavings eco-stones in outdoor porcelain stoneware is sufficient to get easy and precise grouts.
For larger grouts, additional cross-shaped spacers are available to extend the spaces, so that the result is always impeccable.
Smart Spacer System® is the environmentally friendly choice for outdoor paving that cuts down on laying times.
Ideal for:
large urban areas and residential spaces
projects requiring timely and coordinated work
Smart Spacer System® replaces conventional self-locking outdoor and drivable paving
Designed for dry laying on gravel or sand, for garden and outdoor chilling areas such as swimming pools and outdoor spas, it ensures a high level of slip resistance.
Would you like to learn about all the applications with interlocking laying thanks to Smart Spacer System®?